COVID-19 vaccines are now available to all San Mateo County residents over age 16. First 5 San Mateo County and our partners continue to prioritize and support access to vaccines for child care providers.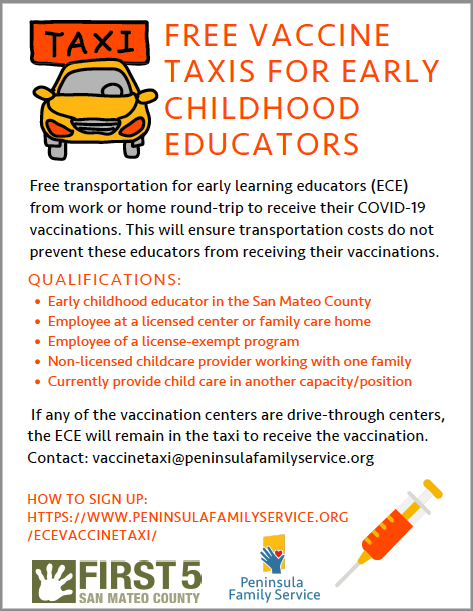 For information on how to get an appointment for a COVID-19 vaccine download an information sheet (in English, Spanish, and Chinese) or visit the San Mateo County Vaccine Information website.
The child care workforce can also take advantage of free vaccine taxis to transport them to and from COVID-19 vaccine clinics. Click here to learn more and sign up for free transportation to a COVID-19 vaccine appointment.
Throughout the COVID-19 pandemic, the Child Care Response Team has prioritized the health, safety, and security of the child care workforce, including access to the COVID-19 vaccine. We are proud of the early educators in San Mateo County and the dedication and commitment to providing safe and high quality care they have shown throughout the COVID-19 pandemic. They are childcare heroes!