First 5 San Mateo County understands we cannot do it alone. In order to have the greatest impact on children and families, we must leverage our resources and create strategic community partnerships. We build needed infrastructure to support our investments and develop broad-based coalitions to drive sustainable change.
Blog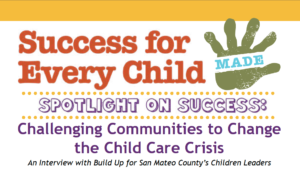 Download the print ready version of this story here.
How can San Mateo County close the gap of 19,000 needed child care, preschool and after school spaces? According to Christine Padilla and Sarah Kinahan of Build Up for San Mateo County's Children (Build Up SMC), there isn't a one-size fits all approach to this problem—every city and person requires something different. And to make a real difference, these leaders also know that solutions must be practical.
Build Up SMC is a critical initiative that is working to grow and improve the supply of child care and preschool facilities in San Mateo County. Utilizing a multi-pronged approach, Build Up is seeking to alleviate the child care shortage through the reuse of existing available spaces, inclusion of child care in new developments, partnerships with large employers, and generating new capital funds.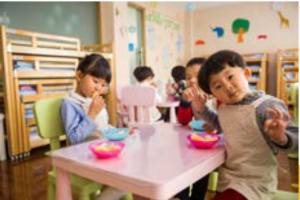 Build Up's approach goes beyond Early Childhood Education (ECE)—at its core is multi-sector relationship building that improves the lives of families, the infrastructure of the community and the economies of cities within San Mateo County. "With such a significant shortage, we needed to move outside the ECE circle, we needed more people to be an 'advocate' for the cause because it affects us all," Padilla said.
Leaders within the organization focus on child care as a benefit that supports employee retention and productivity, along with creating a sustainable work-life balance for parents and caregivers. Kinahan brings attention to the fact that the child care crisis is an economic and community issue that impacts overall life potential.
"It takes a lot of leg work and relationship-building to sustain progress," Kinahan said. "It's not often something that's on a city council's radar, but as soon as we share the impact the child care crisis has on everyone, it's eye-opening for them." Child care is part of community infrastructure, interrelated with housing and transit. According to Padilla and Kinahan it is about taking care of our environment, our workforce, our children and their future. Build Up envisions child care located close to homes, jobs and transit that makes the community better as a whole, for everyone in it.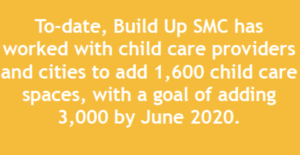 Tackling this issue city by city and person by person is not accomplished without great difficulties. As Padilla acknowledges, different cities have different needs and challenges and San Mateo County is unique with vast disparities across the county that can't always be seen. It can sometimes take time to get buy-in from cities and achieve the funding that is needed to tackle this crisis. To continue progress, further support from cities and communities is needed.
In the next year, Build Up SMC will be taking on these challenges with a variety of strategies, including growing its capital fund. Gilead Sciences, Inc., Build Up's first corporate donor, recently provided a $50,000 grant to Build Up SMC. Using this funding, Build Up SMC will be rolling out mini grants for small at-home child care facilities so these small businesses can increase their capacities. These exciting opportunities coincide with SB234, new state legislation that makes it easier for licensed family homes to expand the number of spaces they offer.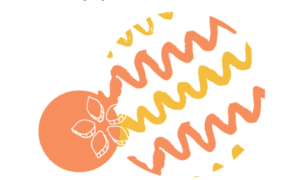 And perhaps most importantly, Build Up SMC will continue with expanded community awareness and relationship-building in order to create change across the county. "Helping different sectors recognize the interconnectedness between child care, the economy, and workforce, as well as overall community wellness, is essential to move forward. The Child Care shortage is not an isolated problem and it impacts communities on numerous levels." Padilla said.
Learn how you can be an advocate for Build Up SMC and sign up for the First 5 San Mateo County newsletter to stay up to date with the latest news.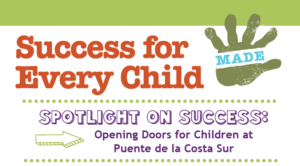 Download the print ready version of this story here.
All children in San Mateo County deserve to learn in nurturing, safe and affordable child care, staffed by qualified child care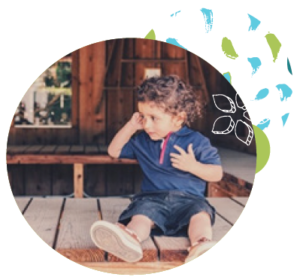 professionals. Knowing that early childhood education is one of the most critical factors to future success, organizations like First 5 San Mateo County (F5SMC) are working hard to make that a reality.
An exemplary catalyst of creating solutions for local families is Puente de la Costa Sur (Puente), an active part of San Mateo County's rural community. In 2016, Puente opened one of the area's first bilingual parent cooperatives, "Sueños Unidos" ("United Dreams"). This co-op model allowed local volunteers—such as parents, grandparents and aunts—to access affordable child care while assisting Early Childhood Education professionals. With guidance from professional teaching staff, volunteers come one day a week and provide care on a rotating basis.
With the help of F5SMC, the co-op's childcare center was able to obtain the funding necessary to fully support program operation within months of opening. Looking forward, Puente has its sights set on becoming a licensed early childhood education provider. In the meantime, they ensure quality programming by providing professional development opportunities for staff through F5SMC and the San Mateo County Office of Education, along with additional programs for children ages 0-5.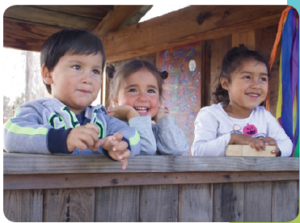 One of these programs is "Abriendo Puertas" ("Opening Doors"). This special program gives support to parents as leaders with a ten-session curriculum delivered through popular education tools in partnership with the La Honda-Pescadero School District and community parents. In addition, Puente provides home visits to families with children ages 0‐3. The program also gives parents and children access to safety net services, health and wellness services and developmental education.
It was through Abriendo Puertas that Puente staff first met 1-year-old Eddie*. From the very beginning, they were concerned about Eddie's health, as he appeared very thin and low energy, with little language skills for his age. When he joined the childcare co-op, teachers referred Eddie's parents to a pediatrician but were unable to obtain enough information from them to truly help. Puente staff then decided to accompany Eddie's parents to one of his appointments and later determined that he was extremely anemic. With the help of a variety of vitamins and iron-rich foods, Eddie was back on the road to a healthy start. Eddie has not only gained weight, but he now laughs, runs, and even plays with other kids.
*Names changed to protect privacy

May 1, 2019
Executive Director, Kitty Lopez, visited Peninsula TV Voice to update the community about First 5 San Mateo County's investment in the community over the last 20 years and where it is headed in the future.