Your child's first years are very important. Good health, loving relationships, and opportunities to learn will help your child reach his or her greatest potential. The Kit for New Parents helps parents and caregivers develop positive relationships with their children. It is designed for the whole family.  The Kit for New Parents is only available for San Mateo County, California residents.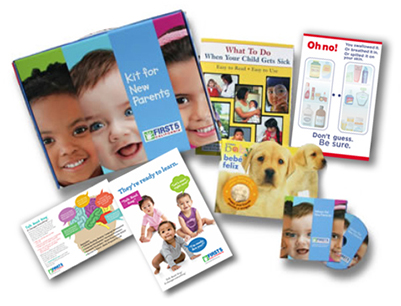 This free Kit includes:
Advice for New Parents DVD
Parenting Resource Guide
Dental Kit
Potter the Otter Bilingual Book
Animal Hand Puppet
Information on important topics, including:

Health
Nutrition and Obesity Prevention
Child Safety
Early Literacy
Setting Limits
Finding Quality Childcare
PLEASE DO NOT SUBMIT A FORM IF YOU DO NOT LIVE IN SAN MATEO COUNTY CA. If you do not live in San Mateo County CA, you will not be mailed a kit.