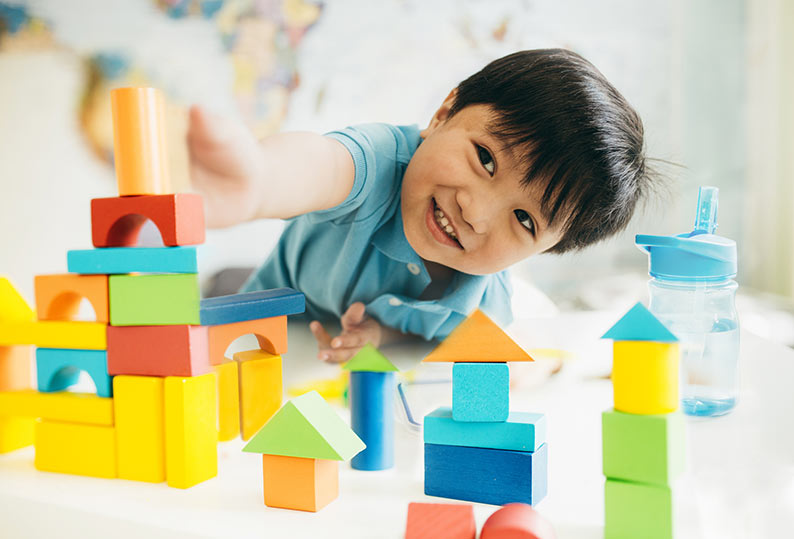 Who We Are
First 5 San Mateo County generates significant and lasting returns on the investment in our children. Our vision is success for every child.
In 1998 voters passed Proposition 10, adding a 50-cent tax on tobacco products to create a guaranteed revenue stream for children. Prop 10 funds established First 5 California (state commission) and 58 independent First 5 county commissions that provide locally-approved programs. By voter mandate we are committed to improving children's health, school readiness and family functioning. Click to learn more about the work we have done in the past 20 years.
First 5 San Mateo County has developed a deep understanding of the complex and evolving issues around early childhood development in our community. We leverage knowledge and funding to mend gaps in service, awareness and access – ensuring a comprehensive and effective early childhood system
Since our inception in 1998, First 5 San Mateo County has invested more than $127 million in comprehensive programs for early childhood development, family strengthening, and other support services. We support evidence-based programs in childhood health, early learning and family engagement to strengthen what's working, fix what's not and to ensure equity for all. This is accomplished through a combination of focused financial investments and systems-level work, as well as targeted funding to support community partnerships, policy development, and leadership on issues related to children from the prenatal stage to age 5, and their families. More about our Policy Platform
Content / Layouts from Comp
First 5 San Mateo County serves children prenatally through age 5—infants, toddlers and preschoolers—as well as their parents and caregivers. First 5 supports children of all backgrounds, ethnicities, and income levels according to their developmental needs.
Early Childhood: A Guaranteed Return on Investment
Children who enter school with the basic knowledge of math and language skills are more likely to experience academic success, attain higher levels of education and obtain employment.
A wealth of research proves that early childhood investments offer the greatest return—for the child, the family and the community. Nobel Prize winner Professor James Heckman calculates a return of at least 7-to-1 on early interventions.
Children are the future of society. Helping them reach their full potential is the most fundamentally sound investment we can possibly make, but that investment must begin early. When we invest in our community's children early, we all reap enormous dividends throughout their education, their careers and their lives.
To view the California Children and Families Act go to www.ccfc.ca.gov
"More than anything else within the scope of human influence, the future of our families, communities, cultures, economies, and nations depends on our children's learning. The world will become what our children learn it to be."
Ensure all children will be healthy.
Prepare kids to enter school ready to achieve their greatest potential.
Support healthy parent-child relationships recognizing that parents are their child's first teacher.
Investing in Our Kids
Since its inception, First 5 San Mateo County has invested over $120 million in local programs. These dollars have been used to serve over 63,180 children ages 0-5, and 36,130 parents and expectant parents locally. Through our funded programs and agencies, approximately 15,000 children and primary caregivers are served every year!
More on Prop 10
[Link to a short video]
Through a comprehensive strategic planning process, we developed our roadmap to achieving better outcomes for San Mateo County's youngest children. Download our Strategic Plan (.pdf)
Guiding First 5 San Mateo in our mission to promote positive outcomes for children and their families through strategic investments, community leadership, and effective partnerships.
Blog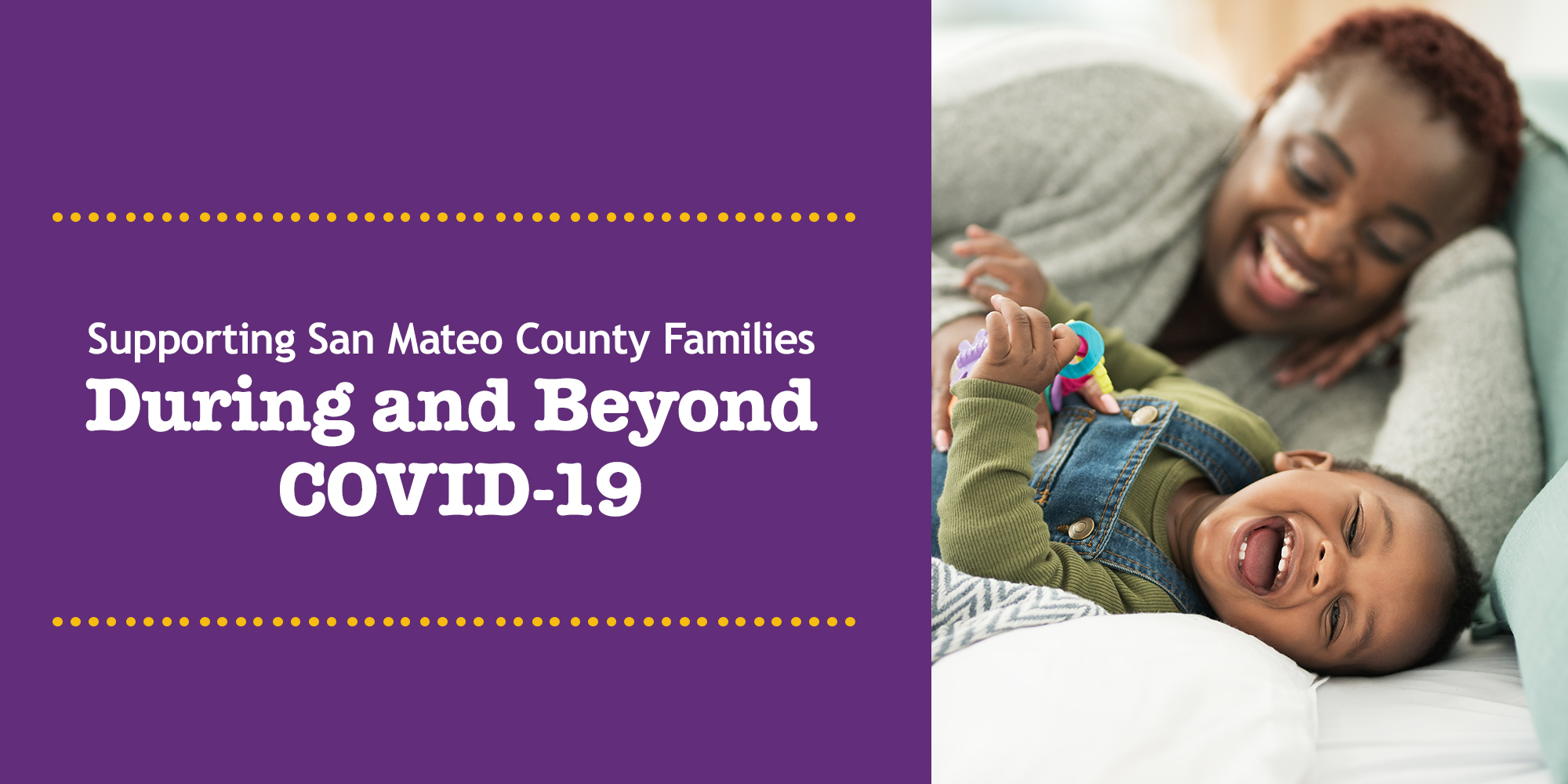 Now more than ever, helping your child keep a routine can make an incredibly positive difference in their overall wellbeing. Children thrive when they know what to expect in their day. Establishing a routine and trying your best to stick to it will help create a sense of safety and excitement for your child.
The days ahead have many unknowns. Let your plan evolve to ensure it is working for you and your family. Check in with your kids to see how it's going and encourage them to offer up new ideas. Each family must decide what works for them and, if you need to change things up, go for it!
Consider including the following in your family routine:
Hygiene time – Shower, brush teeth, get dressed in clean clothes every day. Keeping regular hygiene is important for health and wellbeing.
Exercise time – If you are able to safely go outside with your kids, get some fresh air and get everyone's bodies moving to burn off energy and stress. It's great for  physical health and mental health to get 30-60 minutes of exercise each day (it doesn't have to be all at one time). Get creative with your exercise and mix it up with activities such as walking around the block, jumping jacks, a dance party in your living room, family yoga, etc..
Play time – Creativity and play are important for child development and promoting positive behaviors. Keeping your children busy, entertained and engaged can help prevent disruptive behavior and create more positive, memorable experiences. Need some ideas for playtime? Check out these fun activities from First 5 California!
Mealtimes – Keep regular mealtimes, including snack times. Eating healthy, nutritious food such as fruits and vegetables keep your body and mind healthy and reduce stress. Limit high-fat, high-sugar foods and beverages containing caffeine, like soda. If you need assistance accessing food for your family during this time, check out our COVID-19 resource page for help.
Sleep times – Stick to regular times of going to bed and waking up each day. Create a calm place for sleep that is cool, quiet and free of distractions. Consider adding a nightly routine of reading a book or bedtime yoga.
Mental wellbeing – Take moments throughout the day to talk about feelings. Consider a routine where you talk about, write out or draw three things you are all grateful for each day. Adding 20 minutes of this kind of mindfulness to your daily routine can also soothe and reduce stress. Learn more about communicating and connecting with your child during this time to reduce stress with part one of this blog series.
Keeping as much structure as you can will be helpful for your child and your whole family, but remember to be kind to yourself if it doesn't always go as planned! Take a look back at our blog Caring for Yourself to Care for Your Family for some additional tips on how to take care of your own wellbeing during this time, and visit our COVID-19 resource page for more information and resources.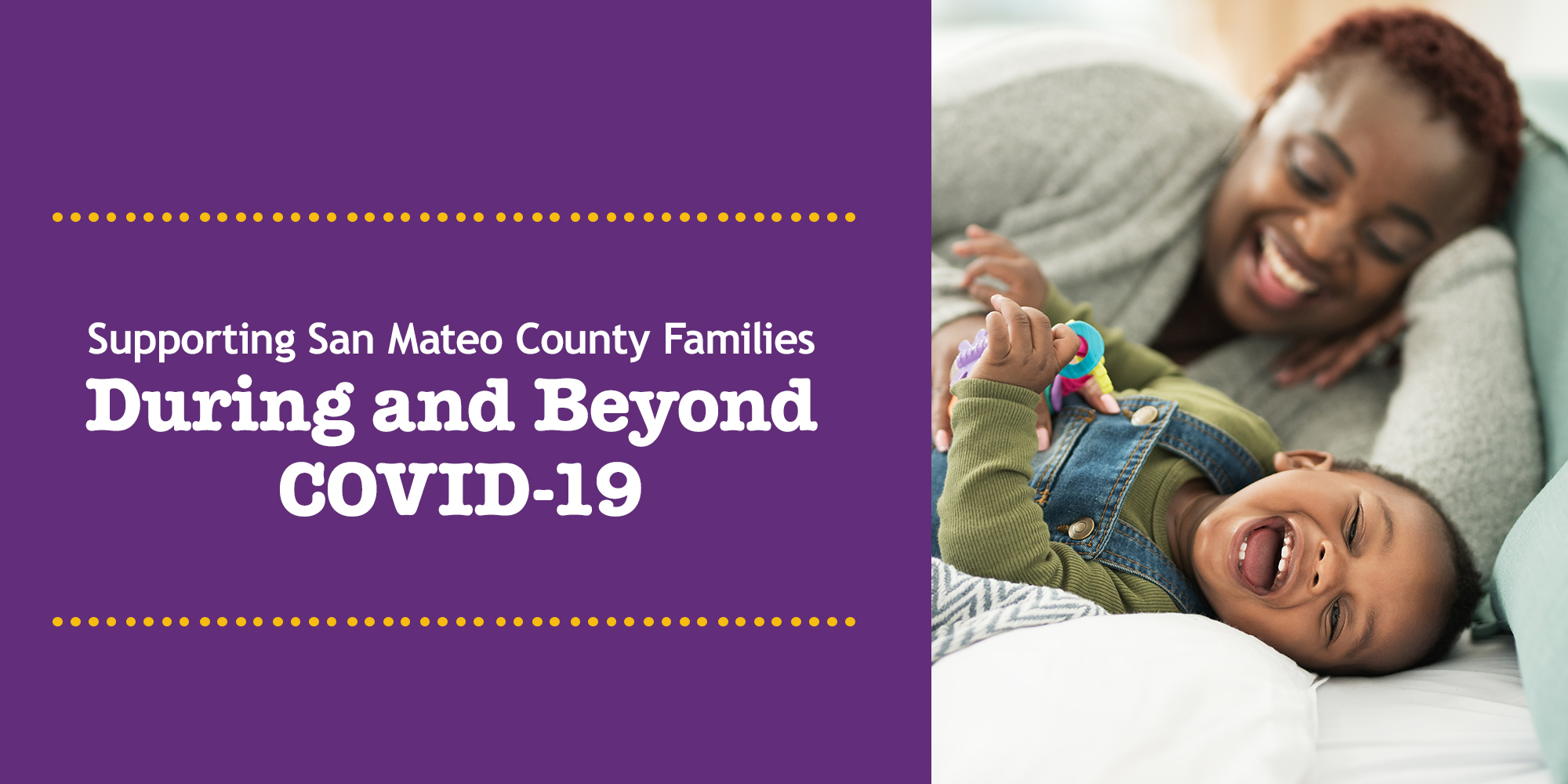 From school closures and not being able to see grandparents or friends to cancelled events like birthday parties, your child is likely facing many new changes in their day-to-day life that can lead to higher levels of stress. This kind of stress can challenge a child's physical and mental health, and contribute to conditions such as asthma, poor growth, depression, or behavioral problems. The good news is that there are simple things you can do every day, at home, to help your child cope with life's changes and protect their health.
Communicate with your kids to reduce stress.
Not talking about something can make your child worry more. Parents and caregivers can help kids avoid the harmful effects of stress by talking with them about the pandemic in a calm, sensitive and age-appropriate way to help them cope. Making space for them to share their feelings with you and ask questions can help provide much-needed reassurance. Check out this guide from Child Mind Institute on how to talk to your kids about coronavirus for more tips and ideas.
Kids feel good when they know they are helping solve a problem. Help them understand why they are not able to see their friends and loved ones right now — because staying at home helps keep everyone healthy. Tell them there are things they can do to help – hand washing, covering coughs and sneezes, and wearing a mask when they go out. Provide encouragement by telling your kids how proud you are of them for being part of the solution.
Connect with your kids to reduce stress.
These moments are opportunities for connection. Turn off the TV and other devices for quality time together making art, dancing, singing or reading at home. Help your kids maintain connections with friends and loved ones outside of the home by phone, video chat or letter writing. Nurturing relationships that make children feel safe can protect their brains and bodies from the harmful effects of stress and make them more resilient. When they have strong feelings, try to listen with calm kindness and remind them that they are not alone.
Kids are sensitive to emotional signals from their caregivers, so it is important for you to manage your stress first. Remember to be kind and compassionate with yourself. Creating time to care for yourself puts you in a better position to offer comfort and encouragement to your child when they need it most.
Ready for more tips for your child's wellbeing during COVID-19? Stay tuned for Part Two: Structure is Soothing, and visit our COVID-19 resources page for more information.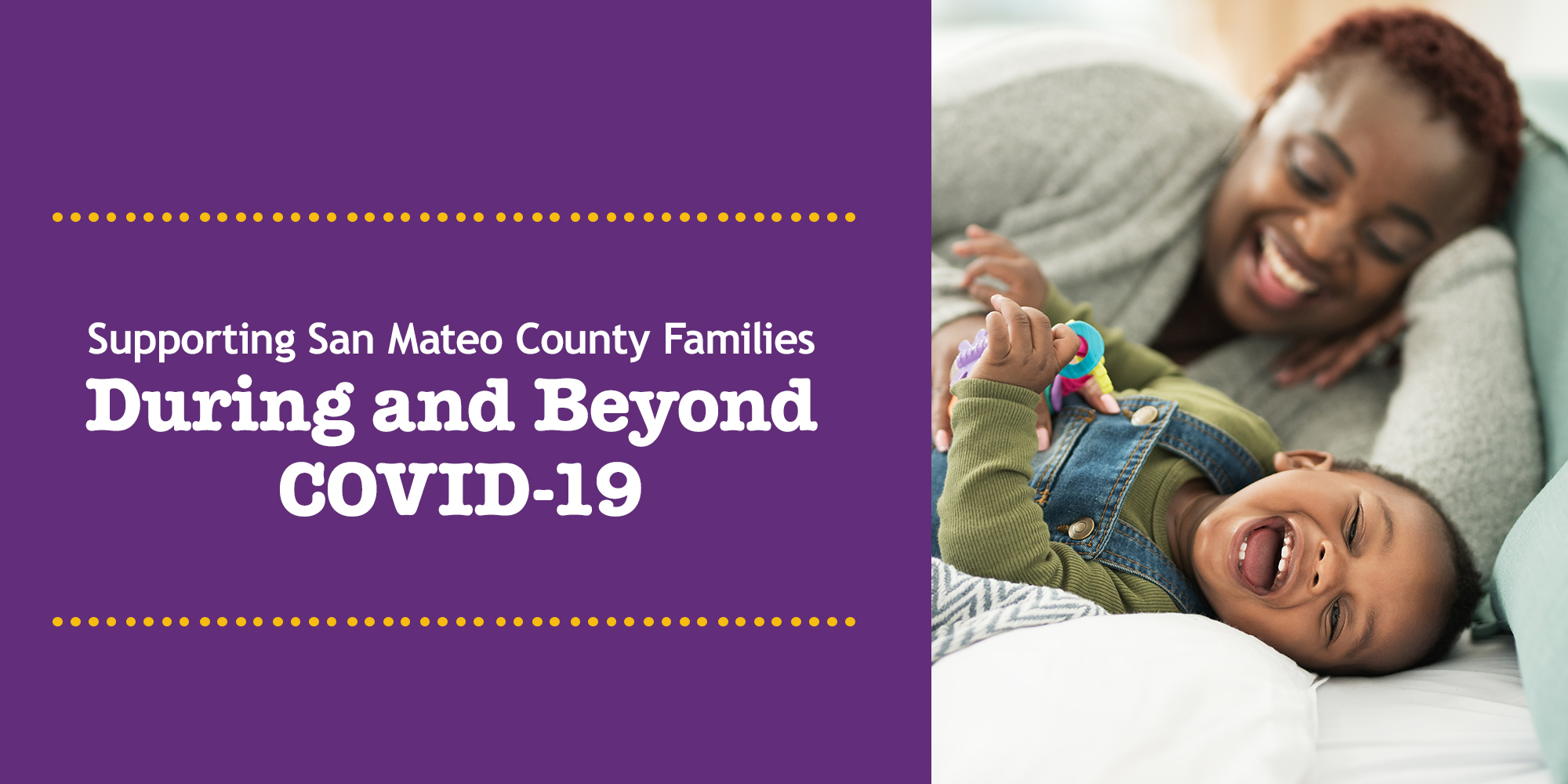 While so many aspects of your life may be impacted by this pandemic, know that you are not alone. Many families are facing more hardship and emotional challenges than ever before. Fortunately, the San Mateo County community continues to come together to ensure our families are supported.
Whether you're in need of resources related to basic needs, child care, emotional support or more, it's okay to ask for help.
Basic Needs
If you or someone you know is in need of help with emergency financial assistance, food, housing, utilities and other basic needs, local organizations and agencies are prepared to connect people with the help they need. If figuring out where to begin feels overwhelming, you can start by calling 2-1-1 (or 800-273-6222) to explain your needs and get the information and referrals right for you.
Child Care
The lack of access to adequate child care while most programs are closed is forcing some families into impossible situations, especially for those who are essential workers. Do parents go to work or stay home to care for their child? Finding access to affordable and accessible child care is vital for many families and accessing child care is essential. 4Cs of San Mateo County is here to help families in need access child care. If you are an essential worker or qualify as part of an at-risk population (child receiving CPS services, at risk of abuse or neglect, experiencing homelessness or a child of a domestic violence survivor), you may qualify for an emergency child care subsidy.
Emotional Support
Consider talking to a trusted friend or family member. Learning to ask for help can be difficult but it can be so beneficial to helping you heal. There's a good chance people close to you are facing similar challenges and these conversations can help bring these issues to light. The ability to lean on each other can go a long way to help navigate this crisis. If you find yourself needing additional support, there are other resources available for you to reach out to.
Looking for more? San Mateo County has compiled an extensive list of local resources for its residents to help cope with hardships brought on by COVID-19. You can also visit our COVID-19 resource page and social media channels for up-to-date information.
Stay tuned for more blogs with tips and information to support San Mateo County families during COVID-19 and beyond, and take a look back at our most recent post for self-care tips.