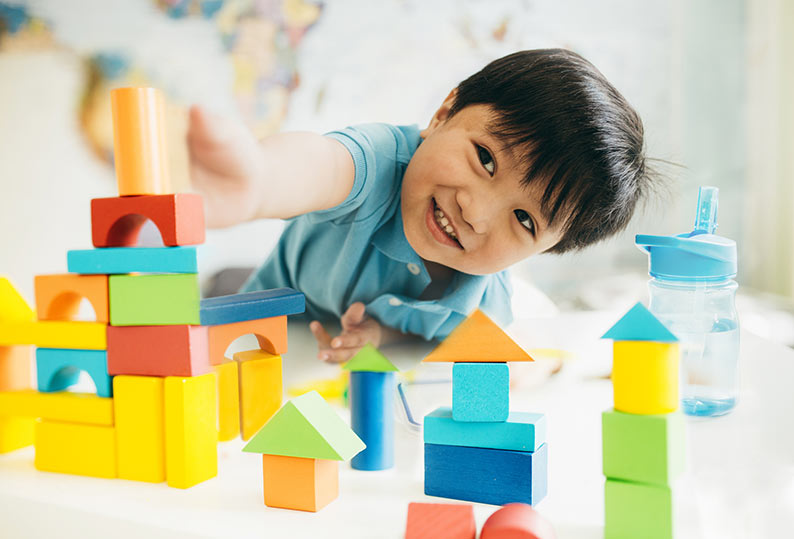 Who We Are
First 5 San Mateo County generates significant and lasting returns on the investment in our children. Our vision is success for every child.
In 1998 voters passed Proposition 10, adding a 50-cent tax on tobacco products to create a guaranteed revenue stream for children. Prop 10 funds established First 5 California (state commission) and 58 independent First 5 county commissions that provide locally-approved programs. By voter mandate we are committed to improving children's health, school readiness and family functioning. Click to learn more about the work we have done in the past 20 years.
First 5 San Mateo County has developed a deep understanding of the complex and evolving issues around early childhood development in our community. We leverage knowledge and funding to mend gaps in service, awareness and access – ensuring a comprehensive and effective early childhood system
Since our inception in 1998, First 5 San Mateo County has invested more than $127 million in comprehensive programs for early childhood development, family strengthening, and other support services. We support evidence-based programs in childhood health, early learning and family engagement to strengthen what's working, fix what's not and to ensure equity for all. This is accomplished through a combination of focused financial investments and systems-level work, as well as targeted funding to support community partnerships, policy development, and leadership on issues related to children from the prenatal stage to age 5, and their families. More about our Policy Platform
Content / Layouts from Comp
First 5 San Mateo County serves children prenatally through age 5—infants, toddlers and preschoolers—as well as their parents and caregivers. First 5 supports children of all backgrounds, ethnicities, and income levels according to their developmental needs.
Early Childhood: A Guaranteed Return on Investment
Children who enter school with the basic knowledge of math and language skills are more likely to experience academic success, attain higher levels of education and obtain employment.
A wealth of research proves that early childhood investments offer the greatest return—for the child, the family and the community. Nobel Prize winner Professor James Heckman calculates a return of at least 7-to-1 on early interventions.
Children are the future of society. Helping them reach their full potential is the most fundamentally sound investment we can possibly make, but that investment must begin early. When we invest in our community's children early, we all reap enormous dividends throughout their education, their careers and their lives.
To view the California Children and Families Act go to www.ccfc.ca.gov
"More than anything else within the scope of human influence, the future of our families, communities, cultures, economies, and nations depends on our children's learning. The world will become what our children learn it to be."
Ensure all children will be healthy.
Prepare kids to enter school ready to achieve their greatest potential.
Support healthy parent-child relationships recognizing that parents are their child's first teacher.
Investing in Our Kids
Since its inception, First 5 San Mateo County has invested over $120 million in local programs. These dollars have been used to serve over 63,180 children ages 0-5, and 36,130 parents and expectant parents locally. Through our funded programs and agencies, approximately 15,000 children and primary caregivers are served every year!
More on Prop 10
[Link to a short video]
Through a comprehensive strategic planning process, we developed our roadmap to achieving better outcomes for San Mateo County's youngest children. Download our Strategic Plan (.pdf)
Guiding First 5 San Mateo in our mission to promote positive outcomes for children and their families through strategic investments, community leadership, and effective partnerships.
Blog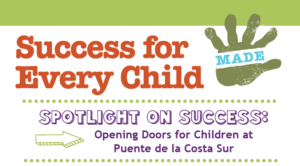 Download the print ready version of this story here.
All children in San Mateo County deserve to learn in nurturing, safe and affordable child care, staffed by qualified child care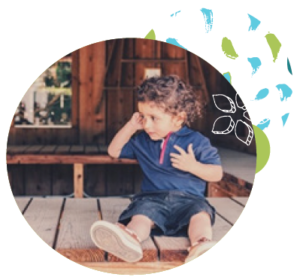 professionals. Knowing that early childhood education is one of the most critical factors to future success, organizations like First 5 San Mateo County (F5SMC) are working hard to make that a reality.
An exemplary catalyst of creating solutions for local families is Puente de la Costa Sur (Puente), an active part of San Mateo County's rural community. In 2016, Puente opened one of the area's first bilingual parent cooperatives, "Sueños Unidos" ("United Dreams"). This co-op model allowed local volunteers—such as parents, grandparents and aunts—to access affordable child care while assisting Early Childhood Education professionals. With guidance from professional teaching staff, volunteers come one day a week and provide care on a rotating basis.
With the help of F5SMC, the co-op's childcare center was able to obtain the funding necessary to fully support program operation within months of opening. Looking forward, Puente has its sights set on becoming a licensed early childhood education provider. In the meantime, they ensure quality programming by providing professional development opportunities for staff through F5SMC and the San Mateo County Office of Education, along with additional programs for children ages 0-5.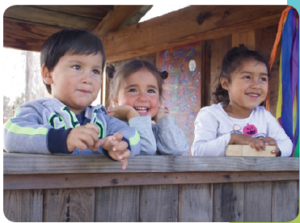 One of these programs is "Abriendo Puertas" ("Opening Doors"). This special program gives support to parents as leaders with a ten-session curriculum delivered through popular education tools in partnership with the La Honda-Pescadero School District and community parents. In addition, Puente provides home visits to families with children ages 0‐3. The program also gives parents and children access to safety net services, health and wellness services and developmental education.
It was through Abriendo Puertas that Puente staff first met 1-year-old Eddie*. From the very beginning, they were concerned about Eddie's health, as he appeared very thin and low energy, with little language skills for his age. When he joined the childcare co-op, teachers referred Eddie's parents to a pediatrician but were unable to obtain enough information from them to truly help. Puente staff then decided to accompany Eddie's parents to one of his appointments and later determined that he was extremely anemic. With the help of a variety of vitamins and iron-rich foods, Eddie was back on the road to a healthy start. Eddie has not only gained weight, but he now laughs, runs, and even plays with other kids.
*Names changed to protect privacy

May 1, 2019
Executive Director, Kitty Lopez, visited Peninsula TV Voice to update the community about First 5 San Mateo County's investment in the community over the last 20 years and where it is headed in the future.

America has long prided itself on being a land of equal opportunity and upward social mobility, a place where those from even the humblest of backgrounds can flourish on the strength of their hard work. But we don't always stop to think deeply about what it means to give every child in our communities the opportunity to reach their potential. We may think about financial aid for college, mentorship programs for middle-schoolers, or equitable funding for public schools. But access to opportunity starts much earlier than that.  It starts before children enter preschool.  It starts with parents who have health insurance, enough food, and stable jobs with decent pay. In our society, unequal opportunity is evident even before a child is born.
The California Strong Start Index is a new tool designed to explore the geographies of opportunity into which children are born. Developed by the Children's Data Network, the Index is built from twelve health, financial, family, and service indicators that are universally captured on California birth certificates[1]. By examining the average Index scores for geographies such as census tracts, it is possible to identify locations where babies are more likely to be born into families and communities that lack some of crucial resources children need to thrive.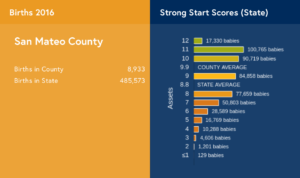 San Francisco and San Mateo Counties have the highest average Strong Start Index Scores in the State, at 9.9 out of 12. But if we only look at the county average, we will miss the very inequality of opportunity the Index intends to uncover. In San Mateo County, nearly one in three babies (31%) is born with fewer resources than average.  And one out of every five (20%) is born into a low-asset neighborhood, where large proportions of families are struggling against great odds to create opportunities for their children to blossom.
If we truly believe that that every child in every community deserves an equal chance to build a life that is productive, fulfilling, and joyful, we must commit to a more meaningful understanding of "opportunity."  A society where some children come into the world already behind because their parents can't afford health care or find a job that pays a living wage is not a society that embodies equal opportunity.  It is up to us to acknowledge this moral imperative and develop the political will to make it right.