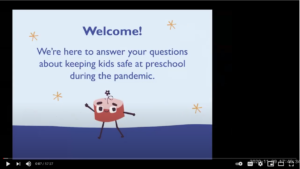 Wondering how child care providers are operating during the COVID-19 pandemic?
First 5 San Mateo County and our partners organized a panel of local professionals to share the latest information, policies, and practices for child care in San Mateo County.
Watch the town hall's recording to learn more about what child care providers need to have in place to offer services during the pandemic.
A list of frequently asked questions created during the town hall will be answered and shared shortly.
Find additional related resources on the San Mateo County Office of Education's website.
First 5 also has a list of COVID-19 resources and supports for parents, caregivers, and early educators.