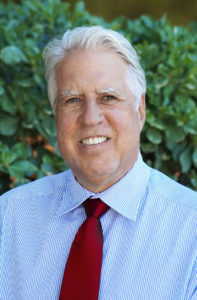 By Emily Roberts, F5SMC Health Program Specialist
Monday, December 11 marked the final meeting for First 5 San Mateo Commissioner Lee Michelson, who will be retiring from the Commission as well as his role of CEO of the Sequoia Healthcare District in Redwood City at the end of the year. Lee has served on the First 5 San Mateo Commission since 2011, playing a critical role as the Chair of the Oral Health Coalition for over three and a half years. In that time, he has epitomized true leadership is so many ways, including:
Overseeing the creation of a new Countywide Oral Health Strategic Plan, the hiring of staff to support the implementation work, and the first year of implementation;
Consistent offers to host meetings at his office and to provide refreshments and other supports to move the work forward;
Amazing fundraising efforts for CDA Cares that far surpassed the goal;
Consistently serving as a champion for oral health efforts with other decision-makers and walking the talk on this issue within his own agency and strong circle of influence; and,
Most of all, his commitment to partnering and rolling up his sleeves, and his ability to see through the barriers to focus on the goal of ensuring that San Mateo County residents have access to oral health services.
Lee leaves us with some tremendous shoes to fill, but he also leaves this County and its work toward improved oral health in a much better state than when he first arrived on the scene. That is the definition of a leader, and on behalf of the Oral Health Coalition and San Mateo County residents, we thank you! "I will be retiring at the end of 2017 and moving to the greater New York City area where my children and grandchildren live. I look forward to spending more time with my family while pursuing opportunities for community involvement in that area. It has been an honor to serve as a First 5 San Mateo Commissioner these past several years. It is a wonderful organization truly dedicated to the development and well –being of all young children in our County. The programs funded by First 5 are really making a difference and thousands of families benefit. I am particularly pleased by the health-focused programs including those focused on early oral health. There is nothing more important than early intervention and attention to the health concerns of young children. As I move to the East Coast I will certainly miss everyone in San Mateo County who are so dedicated and caring. It has been a real blessing to have been part of this great organization."       -Lee Michelson